The traditions of Christmas Cribs goes back decades and decades, often times going beyond the traditional setting, of showing the Nativity scene, with Mary, Joseph, Baby Jesus, the animals, the angels, the shepherds, the sheep, and the Three Wise Men.
This is more apparent in the Neapolitan Cribs, in which non-biblical figurines appear. Naples is undoubtedly the most devoted city to the history and cult of cribs: indeed a 1025 document already reported about a church of Santa Maria ad praesepe (now lost) and again in 1324 a 'chapel of the nativity scene at Di Alagni residence' was mentioned as existing in the nearby Amalfi.
In 15th century the first "figurarum sculptores" appeared; they realized sacred representations in Napoli's churches and chapels. The most important are those by Pietro and Giovanni Alemanno brothers placed on the cribs in San Giovanni in Carbonara, in San Domenico Maggiore, in Sant'Egidio and Santa Chiara. Those are full-size wooden polichrome statues, catched in a hieratic attitude of intense religiousness, placed before a painted background.
In Naples, this year, the figurine of Diego Maradona is set to make a return, in angel-form for example, following the death of the star who played for Napoli.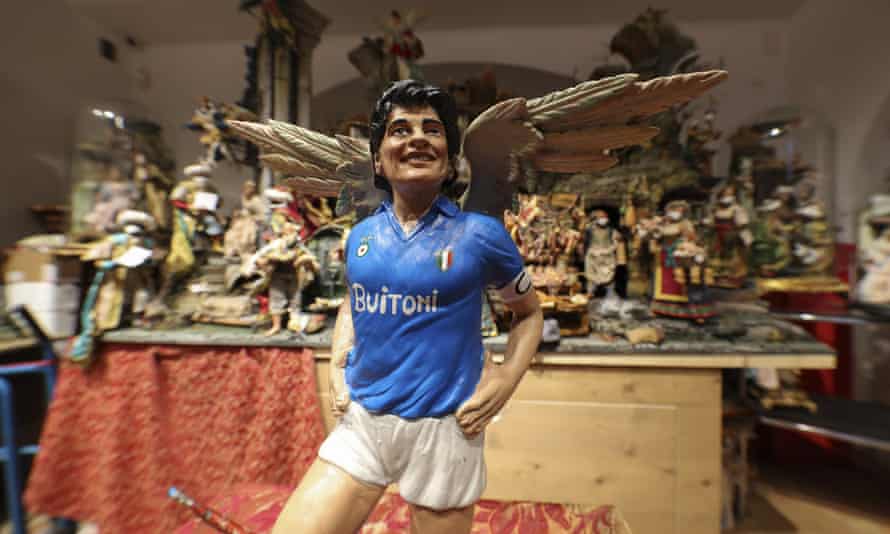 Photograph: Salvatore Laporta/AP
Malta is no stranger to Neapolitan style cribs, with figurines representing San Gorg Preca and even Malta's Archbishop featuring in some cribs here and there. But, apart from these, which would kind of be expected to feature, a shop in Valletta is selling the ultimate 2020 pastur which is a must for any Christmas Crib enthusiast – a figurine of a man with sanitizer and a mask – because, you know, you can never be safe enough in Bethlehem!
We sincerely hope that this will end up being a historic figurine, never to be seen again – but in the meantime, we're off the Valletta!