Harry Styles is reaching the end of his 'Fine Line' tunnel with Golden, an instantly-likeable track, pretty much like all the tracks on the album, which will have you singing along in no time.
And while we are on the subject matter of tunnels, that is exactly how his latest music video starts. Harry. In a tunnel. The video comes after days of speculation about what to expect, after fans spotted Harry filming it around Italy's gorgeous Amalfi coast – jahasra, so close and yet so far!
Harry spends the entire music video running around the coast, singing into the camera, with a bad-boy grin on his face, and even waving to locals who were enjoying their time-barred lockdown walk.
He also is seen driving a convertible, in white gloves (which are making us think of ANOTHER music legend), with any girl out there wishing to be in the passenger seat, with a silk scarf and nice big shades.
Harry also gives us GIF material as during the video he dances in the road, like no one is watching – a little bit like the happy dance we will all do once we can return to FULL normality again.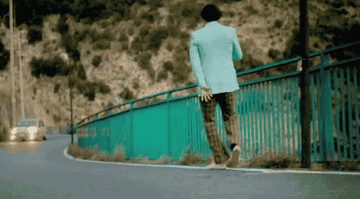 Harry's character really comes across in this video, including when he leans onto a bonnet to serenade a lucky lady in her car, who simply returns the favour by being a hanini and waving back to Harry.
And to top it all off, we are also treated with Harry singing into a lake, come se niente fosse, showing us exactly that he can make anything look cute!
Whilst we thank Harry for taking us all on our ideal Summer holiday, here's Golden ladies and gentlemen, for your enjoyment!