If you're a massive fan of Netflix's The Crown, then you'd better set a reminder for the 15th November, as it has been officially revealed as the return date for the long-awaited Season 4 of the massive series, which gives us an up-close-and-personal insight to The Queen's Reign and all the happenings of the Royal Household.
Season 4 rejoins the Royals at the end of the 1970s, in a time where the United Kingdom was about to have its first female Prime Minister, and when the nation and the world were also about to fall in love with a relatively shy and reserved Diana Spencer.
In fact, the trailer gives us a first look at X Files' Gillian Anderson as The Iron Lady and we also get to see Princess Diana (played by Emma Corrin), and the furor and excitement which she brought to the Royal Family, ending with a back shot of Diana on her wedding day.
A post on The Crown's official Instagram page captions the trailer: "The monarchy. Above all else."
Season four picks up as the 1970s are drawing to a close, with Queen Elizabeth – played once again by Oscar-winner Olivia Colman – and the rest of the Royal Family concerned about safeguarding the line of succession and finding an appropriate bride for the heir to the throne.
As the UK starts to feel the impact of Britain's first female prime minister and her divisive policies, tensions arise between her and the Queen – growing worse as Thatcher leads the country into the Falklands War.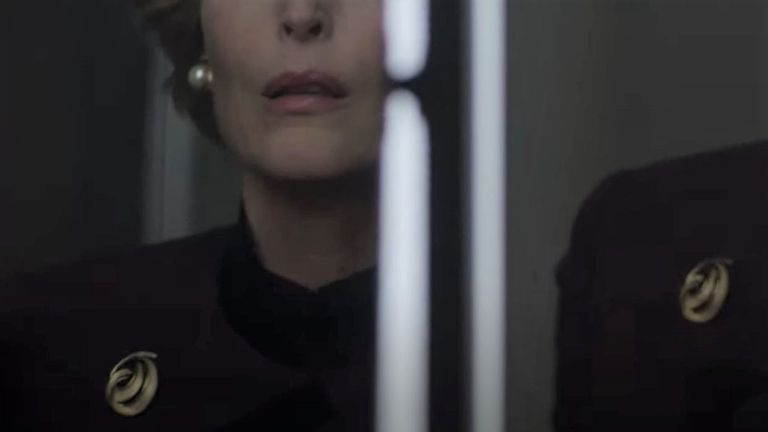 Gillian Anderson as Margaret Thatcher
Netflix teased that following Charles's romance with a young Diana, the drama shows that "behind closed doors, the Royal Family is becoming increasingly divided." Which is exactly why things turned out the way they did, but this will probably be shown in detail in the remaining two seasons of this hit series.
Season Five and Six will focus on the Queen's reign into the early 21st century, including several royal crises that led to THAT "annus horribilis" also known as, 1992!
Harry Potter's Imelda Staunton will take over the role from Colman as The Queen, and Lesley Manville will take over from Helena Bonham Carter as Princess Margaret. EVITA's and The Two Popes' Jonathan Pryce will play the Duke of Edinburgh and Elizabeth Debicki will replace Corrin as Princess Di.
Show creator Peter Morgan in a recent interview said that Meghan Markle will not be depicted in the final season of the drama as she is a recent addition to the Royal Family.