It's that time of year again – no, not Christmas although we couldn't have asked for a better gift at a better time. Billie Eilish is back again for the fourth consecutive year of her Vanity Fair interview.
After her interview with Vanity Fair in 2017, they called her back a year later to answer the exact same questions, creating a sort of digital time capsule. Starting at 15, to 16 years of age, to 17 and this year 18, Billie Eilish has been doing this interview annually on the 18th of October and this year's version has finally been posted!
After gaining fame with her debut song 'Ocean Eyes' at just 14, Billie has already risen to stardom at such an early age. Despite her major success and her overnight popularity, she remains humble and down to earth; two qualities which her fans adore her for.
It is amazing to witness the changes she has gone through since her first interview up till this year's. For starters, she has gone from 257k followers to 67.5 million in just four years. When asked about the most important thing in her life, Billie prioritised her family 4 years ago whereas the following year she mentioned her career, last year her response also differed as she said she wanted to focus on her happiness. This year, impacted by the pandemic she said she wants to focus on not taking things for granted, such as being able to play shows.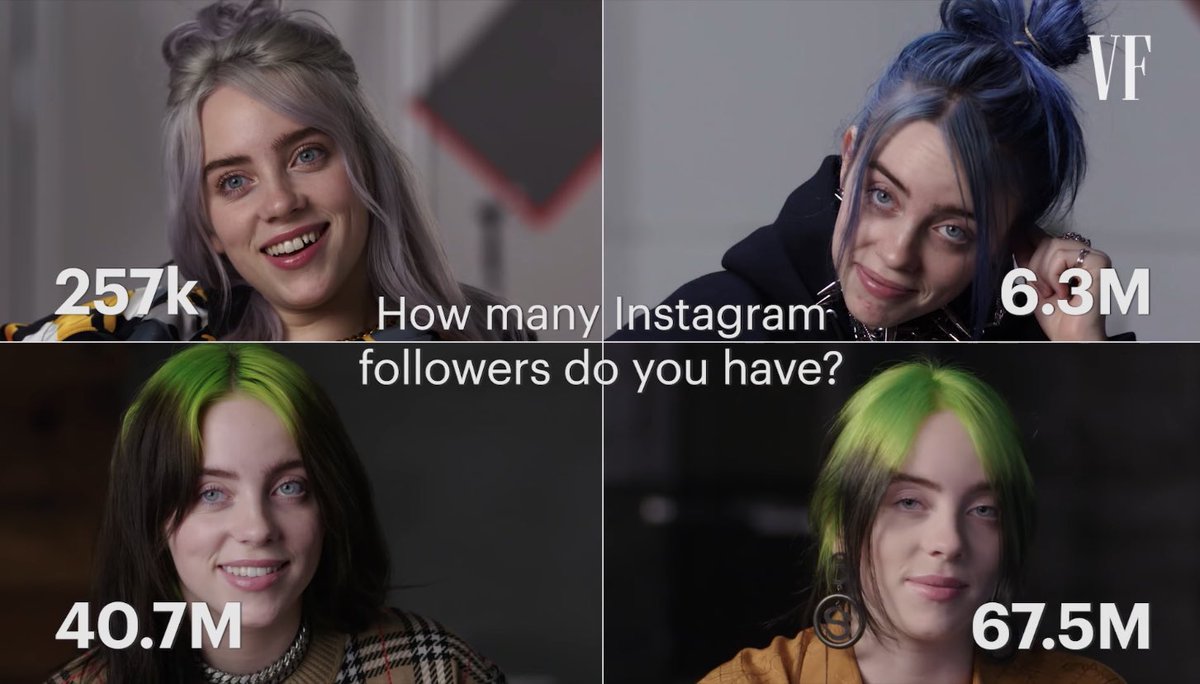 Some things haven't changed as she is as close with her family as she was back in 2017, even taking them along when touring. When asked about her accomplishments, Billie was ever so thankful, mentioning her 5 Grammies which she had won earlier this year along with releasing the James Bond theme song. During her interview, she also touches on subjects such as personal goals, her fame, relationships, and priorities.
It's so wholesome to watch a young star like Billie growing up and sharing her experience with the public. We can't be happier for her achievements! Good news for us; she is currently working on 16 new songs as opposed to her answer from 3 years ago which was just 4. Needless to say, we can't wait for October 18th 2021!
Watch the full interview below!
Photos and Videos: VanityFair