Famed composer Andrew Lloyd Webber has volunteered for a coronavirus vaccine trial and claimed he will "do anything" to prove that theaters can reopen safely.
Lloyd Webber took part in the trials for the COVID-19 vaccine currently being developed by the University of Oxford and pharmaceutical company AstraZeneca. It is one of a number of vaccines to have shown encouraging early results.
Just completed the Oxford Covid-19 vaccine trial. I'll do anything to get theatres large and small open again and actors and musicians back to work. – ALW #SaveOurStages @nivassoc pic.twitter.com/pIcYZJPLps

— Andrew Lloyd Webber (@OfficialALW) August 13, 2020
Lloyd Webber is behind hits including, Phantom of the Opera, Cats and Jesus Christ Superstar, and is one of the most commercially successful composers in history. Throughout the pandemic, Lloyd Webber has used his YouTube channel to share past performances of some of his biggest musicals to raise money for charity as well as entertaining fellow musical lovers with his "composer in isolation" short videos.
Meanwhile in July, Lloyd Webber held a trial socially-distant performance at his Palladium Theatre.
Beverly Knight gave a pilot performance to 640 spectators, among them public health officials and industry figures, in the 2,297 capacity venue on Thursday 23 July.
Strict new measures had been put into place to ensure the safety of theatre-goers, including a reduced capacity – this pilot was just under 30 percent capacity – and strict hygiene procedures. And Andrew Lloyd Webber expressed his feelings on not being able to welcome a fuller audience.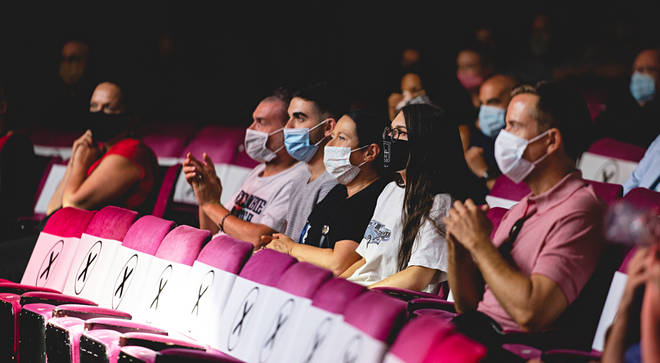 Standing on the stage and speaking to the spectators, Lloyd Webber said: "I have to say this is a rather sad sight. I'm so grateful to you all for coming and being a sort of guinea pig like this."
He continued: "But the Palladium is meant to be full, it's a theatre that wants to love you, and it seems sad."
He also added that socially-distanced theatre is a "misery for performers".