US president Joe Biden is currently hosting 40 leaders at a virtual summit on climate change in the White House in honour of Earth Day, aiming to reassert US global leadership on global warming.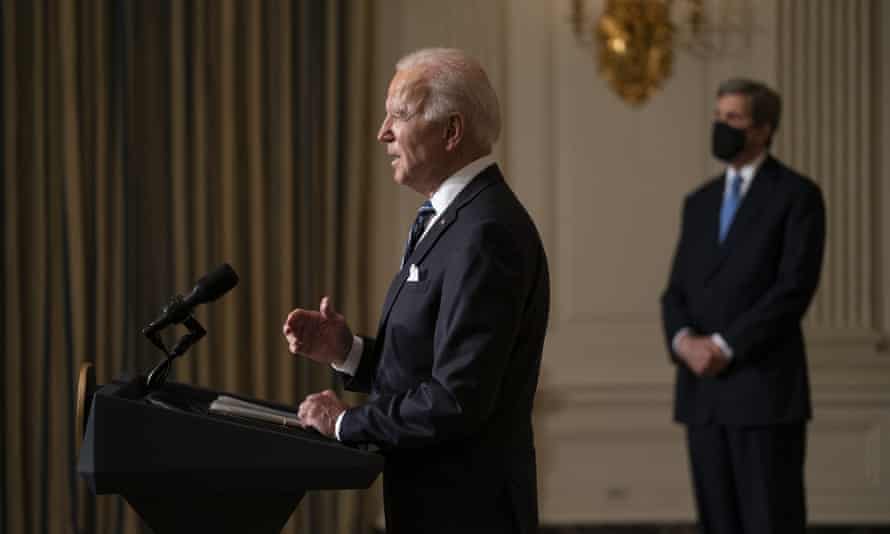 By the end of the summit, the US is expected to release an updated carbon pledge that will see its emissions nearly halved by 2030, as Biden swore to make climate change a key focus for his administration, re-joining the Paris agreement on his first day in office.
Thus far, much of the progress in reducing emissions has been achieved by omitting coal from energy networks, the most polluting of fossil fuels. In a UN report released today, the oceans are also in distress, as it warned that the seas are suffering from pollution, overfishing, and aquaculture.
As the UN report reads, 'Rising carbon dioxide emissions have led to ocean acidification. The number of "dead zones", or areas with reduced oxygen in the ocean, has increased from more than 400 globally in 2008 to about 700 in 2019.'
Our abuse of the ocean is having a devastating effect.

Pressures from many human activities continue to degrade the ocean and destroy essential habitats.

Ensuring a sustainable relationship with the ocean is our collective responsibility. https://t.co/jhaBNLD7hM

— António Guterres (@antonioguterres) April 22, 2021
'Around 90% of mangrove, seagrass, and marsh plant species – as well as 31 percent of species of seabirds – are threatened with extinction. Approximately 15% of all sandy beaches worldwide are seeing retreating shorelines at an average trend of 1 metre/year or more over the last 33 years.'
Elsewhere, Greta Thunberg is also expected to feature at an assembled meeting at the House Oversight Subcommittee on the Environment about the role of fossil fuel subsidies in preventing action.
Greta Thunberg: A Year to Change the World premieres in USA in a three-hour event on Earth Day, Thursday April 22nd at 8/7c on PBS. pic.twitter.com/0HhDNLPFKp

— Greta Thunberg (@GretaThunberg) April 21, 2021
Other invited authorities include Chinese President Xi Jinping, Vladimir Putin, German Chancellor Angela Merkel, Boris Johnson, Pope Francis, UN Secretary-General Antonio Guterres, Australian Prime Minister Scott Morrison, Brazilian President Jair Bolsonaro, and South African President Cyril Ramaphosa.
There will also be a focus on tech solutions and the economic opportunities in taking action, which will include Bill Gates among other speakers.
On another note, earlier this week, the UK pledged a 78% cut in its emissions by 2035 compared with 1990 levels. It is hosting the crucial COP 26 climate summit in Glasgow later this year but as for the summit, UK Prime Minister Johnson is expected to tell the authorities that 2021 must be the year countries 'get serious' about climate change.
As Johnson remarked, 'the 2020s will be remembered either as the decade in which world leaders united to turn the tide, or as a failure.' He will urge leaders to visit Glasgow in November and Kunming, China in October for a summit on tackling declines in nature, armed with ambitious targets and plans.
'Let the history books show that it was this generation of leaders that possessed the will to preserve our planet for generations to come.', he adds.
Strategy documents are expected to be released over the coming months and are promised to spell out solid plans. However, most have been delayed.