Police rescued a baby seal who was found lost in the streets of New York last Sunday.
The baby seal was spotted struggling through a traffic circle in Southampton, New York. The Southampton Town Police Department were called to assist the baby harbour seal back into the sea.
Residents of the town first spotted the seal wandering through a parking lot before making its way toward the entrance of a nearby hotel and getting stuck in the traffic circle.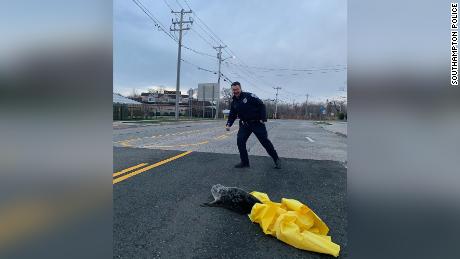 Police assume that the seal probably ended up in the streets after it swam up the Peconic River behind a school of alewife fish, climbed up out of the river behind a park and travelled between 500 and 700 feet into the traffic circle.
The baby seal was rescued by the New York Marine Rescue Center and brought to a rehabilitation center in Riverhead. He was found in good condition and will be sent back to the beach as soon as possible.