The Health Department is currently looking into, and investigating the Slovakian world-first massive nationwide rapid-testing programme.
After this investigation, the Health Department is not completely ruling out adopting this method in Malta – which was also proposed by Opposition Health Spokesperson, who said that this "will enable asymptomatic spreaders to be screened and isolated."
Slovakia has tested its entire 5.6 million population using rapid antigen tests – which has yielded 1% positive results from all those who tested – ahead of the country's second round of testing which took place last weekend.
After two rounds of nationwide COVID-testing, the Slovak government has announced that it will be conducting a follow-up round in a select few hundred towns and villages across the country.
Over two million people were tested during the 2nd round of the nationwide campaign last weekend. The positive cases amounted to 0.66% of tests, equating to 13,509 people being confirmed as positive.
This second round was carried out only in districts where the positivity rate was above 0.7% for a total of 45 locations. Of those, only 15 retained their above 0.7% positivity rate and it is those that will take part in the third and hopefully final round of the campaign.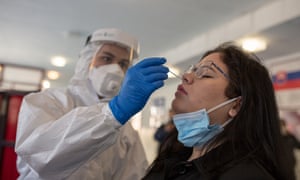 A woman is given the antigen test for Covid-19 last weekend in Kosice, Slovakia. Photograph: Zuzana Gogova/Getty Images
According to government officials, the third round of testing will be conducted on the weekend of 21 and 22 November and it will only involve towns, villages and districts where the confirmed number of cases exceeded 1% of the population. In total, around 500 villages and 5 towns will take part in this phase of the campaign.