For the Inauguration Concert yesterday, Dr. Jill Biden paid tribute to the country by sporting a stunning dress embroidered with the federal flowers of every state and territory of the US.
The first lady paired the ivory silk ensemble with a coat also adorned with flowers, and completed the outfit with matching leather gloves.
The look is thought to symbolise unity across the US, and Biden wore the look for the 'Celebrating America' special held by Tom Hanks, which the Biden family watched from the White House, which replaced the traditional Inauguration Ball due to the ongoing pandemic.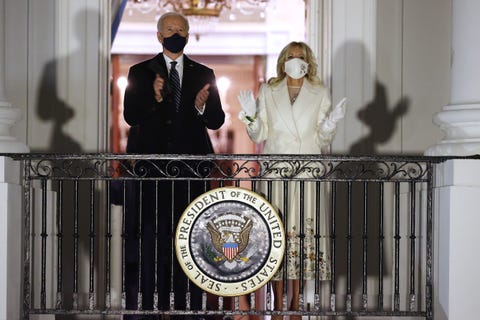 Elsewhere, Katy Perry and Demi Lovato performed at the socially distanced concert. Earlier that day, Biden wore an ocean-blue dress and matching coat for her husband's ceremony.
Designer Alexandra O'Neil shared, 'When we were designing Dr. Biden's look, we wanted to make sure her outfit was classic and feminine and really reflected her but was a little bit of something extra-special, so we had the little crystal details on it to reflect the light very subtly'.
She added, 'I think she recognizes the power and impact that her clothing choices have on emerging talent'.