Following her illustrious career, Jane Fonda has reached yet another milestone as she highlights 'I May Destroy You' and calls for more diversity during her Golden Globes speech, joining the ranks of other Cecil B. DeMille honourees such as Oprah Winfrey and Tom Hanks!
This means the world to me. #GoldenGlobes pic.twitter.com/gYQK19tJgi

— Jane Seymour Fonda (@Janefonda) March 1, 2021
The actress, now 83 years old, received the Cecil B. DeMille Award at the 2021 Golden Globes and began her speech by sharing how honoured and moved she felt. Jane was also one of the few in-person attendees at the awards ceremony.
She then put down her Golden Globe to discuss the importance of diversity in storytelling, highlighting some movies and shows that she believes uphold this, 'You see, stories have a way that can change our hearts and our minds and help us see each other in a new light — to have empathy and to recognize that for all of our diversity that we are all humans first'.
View this post on Instagram

'Just this year, Nomadland helped me feel loved for the wanderers among us and Minari opened my eyes to the experience of immigrants dealing with the realities of life in a new land', she continued, as she gave shoutouts to works like Ma Rainey's Black Bottom.
The actress also referenced I May Destroy You, which was omitted from nominations, saying that it taught her 'to consider sexual violence in a whole new way.' She went on, 'Stories, they really can change people'.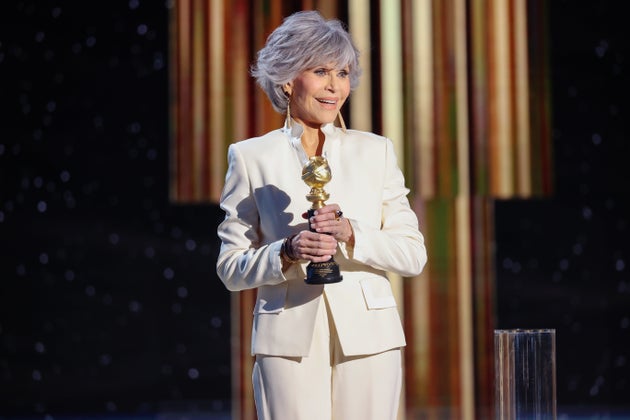 'But there's a story that we've been afraid to see and hear about ourselves in this industry: a story about which voices we respect and elevate and which we tune out. A story about who's offered a seat at the table and who is kept out of the rooms where decisions are made.'
Fonda then urged everyone in the industry to focus on diverse voices, 'I mean, doing this simply means acknowledging what's true, being in step with the emerging diversity that's happening because of all those who marched and fought in the past and those who've picked up the baton today'.
Earlier before heading out the door to the Golden Globes. Loving my jewelry courtesy of Pomellato especially loving the red. #pomellato #HighJewlery #LaGioia pic.twitter.com/aJpN4DcKpv

— Jane Seymour Fonda (@Janefonda) March 1, 2021
'After all, art has always been not just in step with history but has led the way. So, let's be leaders' she added and concluded.
Jane Fonda Reflects on Acting and Activism on Eve of Cecil B. DeMille Award https://t.co/CKKumMfWDm via @variety

— Jane Seymour Fonda (@Janefonda) February 26, 2021
Jane was presented with the award for not only the breadth of her work, but how her work is rooted in unrelenting activism and using her platform to address prominent social issues. She is a seven-time Golden Globe winner.