Before people actually get their license, they'll envision all that they'd want to do after obtaining that new level of freedom. But little do non-licensed drivers realise that that perception is warped, because once you step out of your instructor's car for the final time, the training wheels are OFF.
To give you a better picture… remember that chaotic freeway scene from the movie 'Clueless', where they're all freaking out because everyone is honking and flipping them off? That's pretty much what driving in Malta for the first time is like. So here's what you think getting your Maltese license is like, versus what it's really like…
Expectation: You thought you'll be licensed within 3 months
Reality: It probably took around a year, and you were lucky if you passed upon first try…
When it's officially the last time seeing your car instructor
Expectation: You think you can peacefully take your time, like the instructors and examiners always told you to…
Reality: But if you spend more than 2 seconds to drive after the light goes green, you will be considered incompetent, and people will swear, and honk.
Literally what every driver behind you looks like in your rear-view mirror…
Expectation: You'll be fine, as long as you always stick to the left lane
Reality: Someone in a BMW will come as close to your car as possible, instead of, you know… just overtaking like a sane person would

This is the look the driver gives you when they finally give up and overtake…
Expectation: People obey road laws, you know, like sane people who don't want to get hurt or kill anyone…
Reality: A speed limit is practically non-existent, up until a speed camera comes round of course, and a stop sign is barely a minor pause for many Maltese drivers.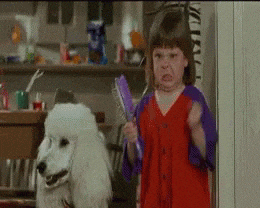 Expectation: Other drivers will let you know what direction they're taking, to ensure their safety and yours!
Reality: Not many people know this, but cars have a secret device called an 'indicator', a secret stick that activates a flashing light on either side of the outside of your car to let other drivers know IN WHICH DIRECTION YOU'RE HEADED.
Expectation: 'I will not give into road rage'
Reality: Maybe not road rage, but you'll DEFINITELY manoeuvre aggressively around eejits that don't know how to drive…
Expectation: You think you'll keep your car nice and clean and fresh…
Reality: Maltese dust.