Dame Barbara Windsor, British Actress known best for being the best landlady The Queen Vic has ever seen in EastEnders and, also known for the laughs in the Carry On Films, has passed away last night aged 83, after a long battle with Alzheimer's.
She passed away peacefully at 8.35pm on Thursday at a London care home with her husband Scott Mitchell by her side, who in a moving tribute said, "I've lost my wife, my best friend and soulmate and my heart or life will never feel the same without you."
He said that Windsor died from the disease, after spending seven days by her side.
"It was not the ending that Barbara or anyone else living with this very cruel disease deserve," he said.
"I will always be immensely proud of Barbara's courage, dignity and generosity dealing with her own illness and still trying to help others by raising awareness for as long as she could."
Among the tributes which started flooding in from British stars of screen and film, her on-screen children, were among the first. Actor Steve McFadden, who plays Phil Mitchell in EastEnders, is said to be devastated by the death, according to a representative.
Daniella Westbrook, who played her on-screen daughter Sam Mitchell, tweeted "Today we lost a national treasure!"
Today we lost a legend a national treasure and a woman who I looked up too for most off my life. A generous warm funny humble and beautiful lady & someone who gave us all much joy watching her act. A woman who I was lucky enough to work with for many years as my mum & a loyal pic.twitter.com/yyPIqbwu3E

— Danniella Westbrook (@westbrookdanni) December 11, 2020
Comedian David Walliams, in a tribute on Twitter described Barbara as the unofficial Queen of England!
'Goodbye Dame Babs. You were my first love as a child in the Carry On films & I will love you forever. Working with you, spending time with you & being your friend was one of the greatest thrills of my life. The unofficial Queen of England, an icon treasured by the nation.' David pic.twitter.com/Jj3cMITlFq

— David Walliams HQ (@davidwalliams) December 11, 2020
Known as The Queen's Vic feisty landlord, and the ultimate matriarch, her character, Peggy Mitchell became an EastEnders icon and was famous for yelling "get outta my pub!" at unwanted patrons! She debuted on the British soap in 1994, and quit in 2009, saying that she wanted to spend more time with her husband.
Before that, Babs, as friends called her, had found fame in the Carry-On Films, with a bikini-top being the main focus in one of her most famous, and hilarious scenes.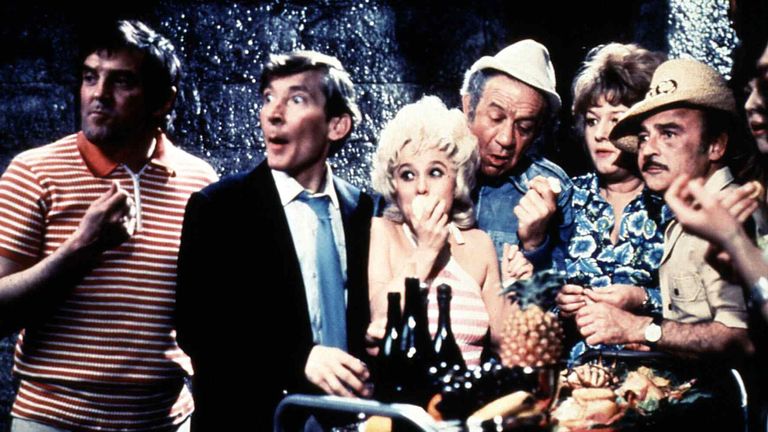 She was diagnosed with Alzheimer's in 2014, going public with the news four years later. She campaigned hard to lift the stigma around the condition, for many years, but earlier this year, her husband revealed that she was suffering more with the disease, and she was often not recognising him.
Barbara Windsor was moved into a care home, in July.