It's Christmas Eve, which means some of us are rolling up our sleeves in the kitchen to prep for the big day. That said… if you're lost for what to cook as your side dish, or maybe you just want to see if you can switch things up a little bit, here are a few Michelin-star-chef-approved ideas!
A Cheese Platter
Suzette Gresham, a Michelin-Star chef, believes that a cheese platter is always a good idea, 'Whether as an appetizer or for wrapping up a meal, cheese is always a welcome addition,'. Gresham recommends picking three distinct and 'visually different cheeses', then decorate with some herbs, fruit, condiments, crackers, and toasted bread, 'And remember to allow the cheese to sit out for a little while before enjoying. Cheese eats better when it's not ice cold.'
A Frisee Salad Pairs Great With a Heartier Main Course
Another chef, Andrew Zimmerman, recommends tossing a frisee salad with a roasted shallot vinaigrette, crispy pieces of ciabatta, and blue cheese. 'The sweet roasted shallots in the vinaigrette help offset the bitterness from the frisee,' he explained, 'And then you have the salty funkiness of the cheese.'
Brussel Sprouts + Roasted Chestnuts
Want your house to literally smell like Christmas? Try mixing your Brussel Sprouts with some roasted chestnuts to get 'one of the best vegetarian side dishes you can eat', as British chef Brad Carter recommends.
Red Cabbage Cooked in Beer
A great dish that goes especially great with duck or venison, 'The lightly sweet and tart red cabbage cooked in Lambic beer, combined with toasted seeds, brings a wonderful contrast of texture and taste to the venison dish', as chef Danial Boulud.
Throw in Some Truffles to Your Potato Gratin
If you're having any sort of roast or fish for Christmas, throwing in some celery roots along with thin slices of black truffles to your potato gratin just takes it to the next level. And if black truffles are out of your budget, Zimmerman recommends grating a little right on top after taking your gratin out of the oven, or using truffle paste instead!
You Can Also Add Truffle to Mac & Cheese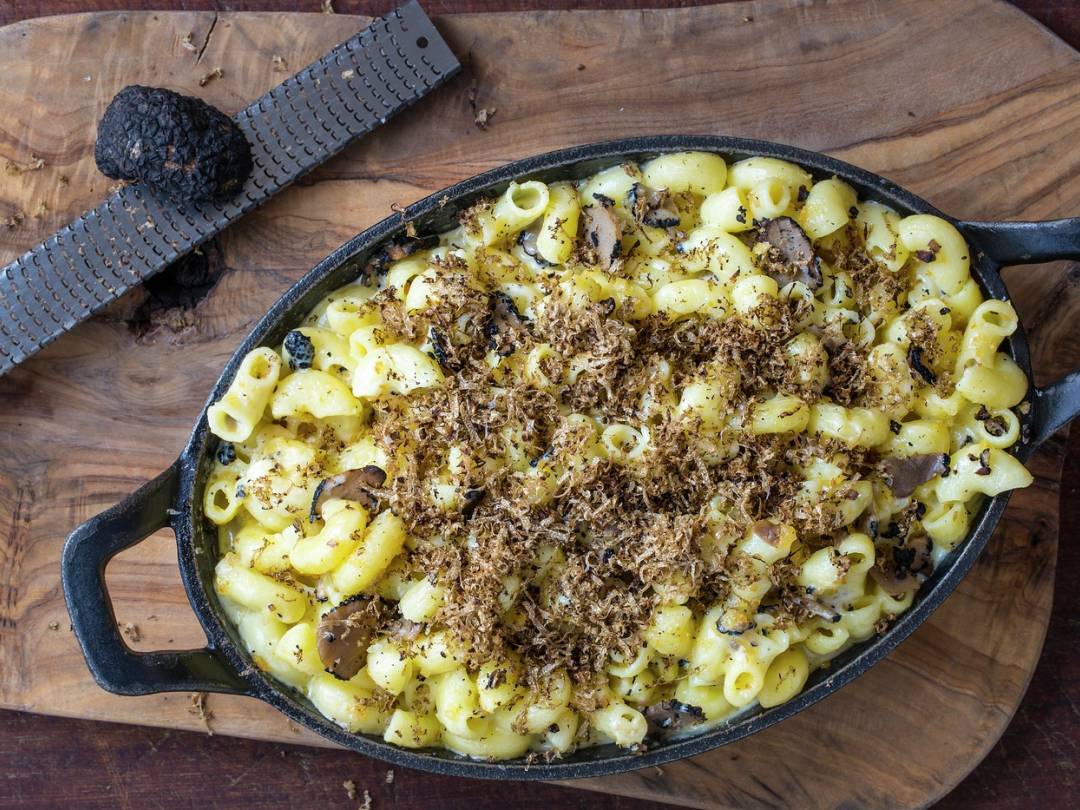 Chef Mari Katsumara shares, 'The holidays are always a great way to showcase luxury ingredients you normally wouldn't use during the rest of the year,'. And what better side dish than some hearty mac n cheese? She also suggests using one hard-aged cheese, one shredded melty cheese, and cream cheese. You can also add 'a touch of mustard and Worcestershire' to help emulsify the flavour of the cheese sauce.
Homemade Tagliatelle
If you're looking for an interesting starter with that 'golden moment' at the Christmas table, Asimakis Chaniotis recommends making some homemade tagliatelle and topped with – you guessed it – black truffle!
Roast Your Vegetables in Duck Fat
Sounds weird I know, but as someone who's tried and tested it, it really is a phenomenal dish. This is especially great if you're making goose or duck for the main course…simply roast some parsnips in the fat along with some honey or maple syrup and boom! 5-Star Veggies right there!